Options for how you can submit a claim under your Holley Insurance auto policy.
Call Our Office
You can call our office ANY time to file a claim, even after hours.
Rocky Mount 540-334-4225
Roanoke 540-985-6554
Pre-Claim Consultation - Oftentimes, our clients have questions about whether they want to file a claim or not. Perhaps the damage is minimal or they have concerns about how a claim could affect their rates. Calling us first allows us the opportunity to walk through those scenarios before filing a claim with the carrier. This service is available free of charge.
If you can call during regular business hours, our staff will either take the first notice of loss details and file them with your company or we will direct you to the proper people to handle that. Calling us first gives us the opportunity to give advice and guidance about what you can expect and we find that makes for a smoother process for our clients.
If your claim occurs after hours and it is an emergency, you may choose to file the claim without speaking to our agency first. That is fine. You can still call our office.
We have an after hours claims service that will allow you to choose the after hours claims service for your company directly through our phone system. You will just need to know which one of our companies your policy is placed with and choose the phone option for that particular company.
File Online
Visit our Policy Service Center and click the option for Claims Filing (or just click here). Choose the link for your company and file your claim through their online service. Their direct claims phone lines are also listed there.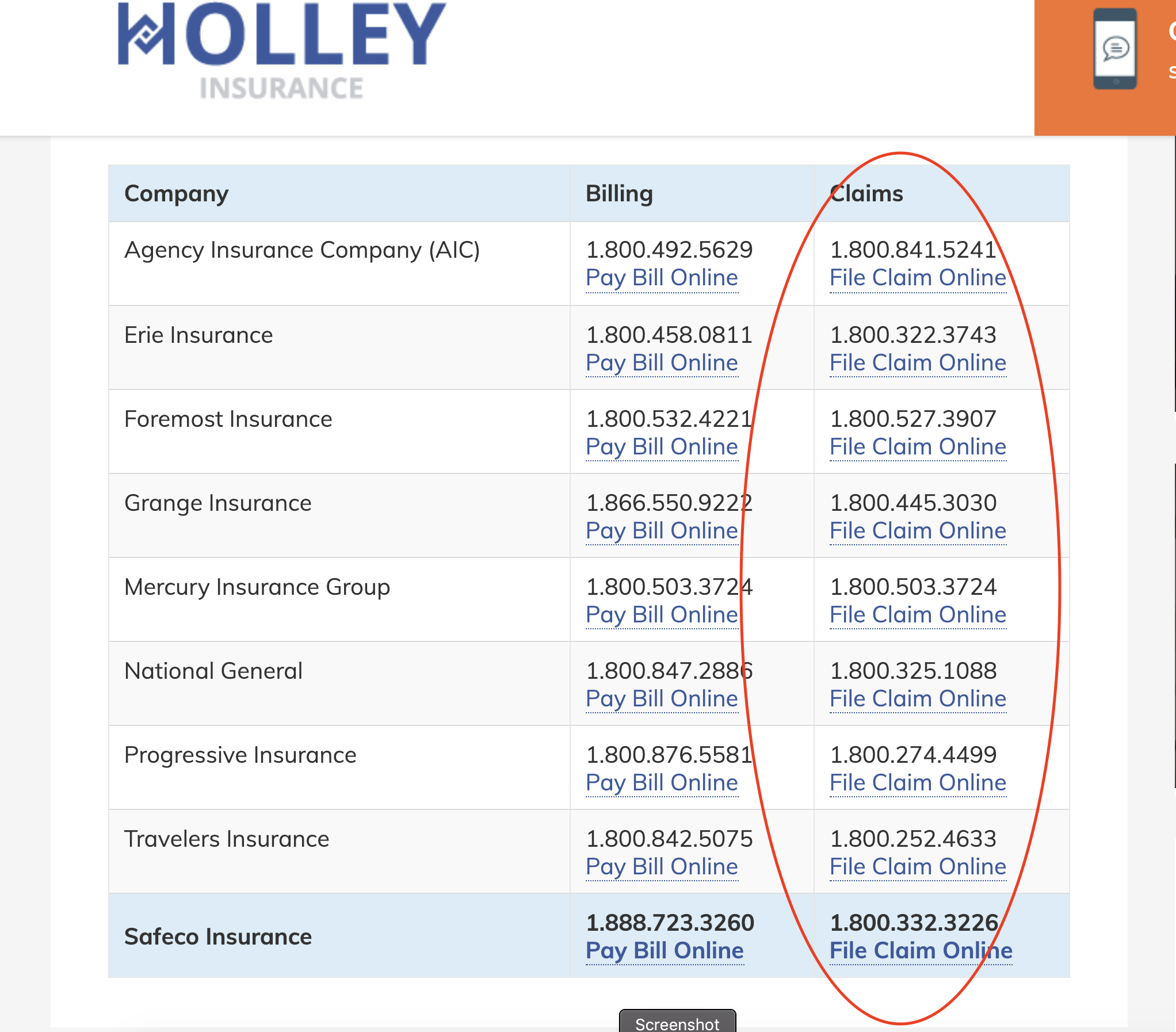 What information should you have available?
All situations are unique. However, collecting the following information at the scene of the accident will help us begin the claims process:
Contact info for all drivers involved including names, addresses, mobile phone numbers, and email address
Contact information for vehicle owners involved (if the driver is not the owner of the vehicle)
All involved parties' insurance company's name and policy number
List of any witnesses with their contact information
Contact information for police officers involved
Details of any injured parties
Information regarding any tickets that were issued. This is key to helping the carrier determine who is at fault in an accident.
Details of how the accident occurred. Be as specific as possible.
Document any damage. Pictures or video are very helpful
Have Questions?
Still not sure how to proceed? Maybe you are not sure if you want to file a claim yet? Just want to know what is covered or not covered? This is why we are here.
Reach out to us so we can help you through this. Either call us or feel free to email our staff or service@holleyinsurance.com.