Options for how you can submit a claim under your Holley Insurance homeowners policy.
If you have a loss that may be covered under your home insurance we are here to help. Here is how to start the process as well as some tips to help you along the way.
Call Our Office
You can call our office ANY time to file a claim, even after hours.
Rocky Mount 540-334-4225
Roanoke 540-985-6554
If you can call during regular business hours, our staff will either take the first notice of loss details and file them with your company or we will direct you to the proper people to handle that. Calling us first gives us the opportunity to give advice and guidance about what you can expect and we find that makes for a smoother process for our clients.
If your claim occurs after hours and it is an emergency, you may choose to file the claim without speaking to our agency first. That is fine. You can still call our office.
We have an after hours claims service that will allow you to choose the after hours claims service for your company directly through our phone system. You will just need to know which one of our companies your policy is placed with and choose the phone option for that particular company.
File Online
Visit our Policy Service Center and click the option for Claims Filing (or just click here). Choose the link for your company and file your claim through their online service. Their direct claims phone lines are also listed there.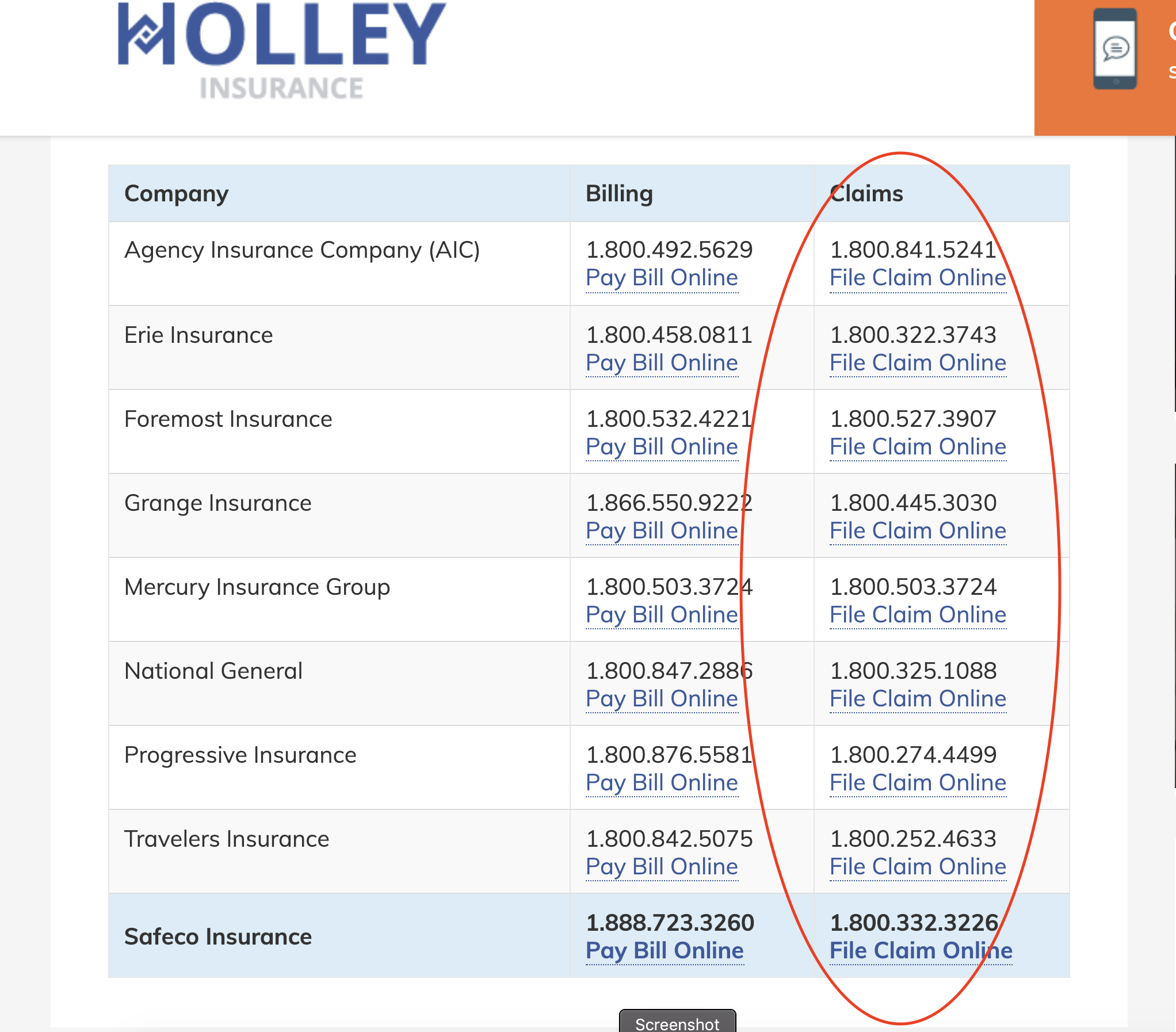 Mitigate Further Damage
We will often times have clients ask if it is OK to make emergency repairs to stop further damage to home and property from occurring while the claim is being investigated and permanent repairs are being arranged.
Making temporary emergency repairs is encouraged. However, you should only attempt them yourself if you can do so safely. You should also be careful to document the original damage as well as the steps that you have taken. Taking pictures and keeping damaged parts are imperative. Written documentation or email documentation can be helpful as well.
Have Questions?
Still not sure how to proceed? Maybe you are not sure if you want to file a claim yet? Just want to know what is covered or not covered? This is why we are here.
Reach out to us so we can help you through this. Either call us or feel free to email our staff or service@holleyinsurance.com.